Ladies have a blinding spotlight over them in which they are expected to look AND feel bright around the clock AND prove that we can handle any chaos the Universe throws at us (which we so can by the way).
HEY WORLD. Newsflash. We get our low moments too.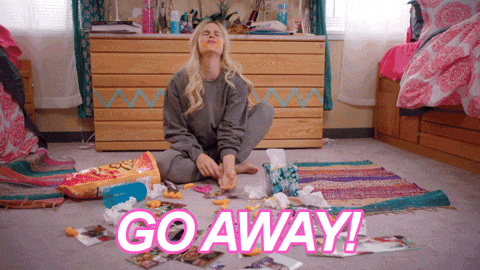 The days I've expressively sighed over an unescapable feed of negative media are countless, and aside from dunking my head into a tub of low fat ice-cream, I've fed sanity-restoring music between my ears. I love music. It calls "shotgun!" and dives into the front seat to either provide an epic soundtrack to my highs and lows or guide me through them.
There's nothing more comforting than a powerful, timeless connection to a song. No matter the era, genre or artist, you're just blissfully aware that the masterpiece was created to document an emotion that we can relate to. As humans, we're all uniquely wired therefore know exactly what works for us and we often find that music can have a therapeutic impact as well as relocate that strength in you that needs a little nudge to come out of hibernation. So the next time you're feeling down, pause the world for a bit and try a few of these recommendations.
INSTRUMENTALS
Life can be chaotic. When I feel most frustrated and need my mind to accommodate some thinking space, I turn to instrumentals – no vocals, no lyrics, just movement of rhythm and beats. There are plenty of Youtube channels that offer a range of lo-fi, chilled hip hop instrumentals but Majestic Casual has specially curated playlists to help you find the perfect tracklist to get you on your feet.
NOSTALGIA
Ever heard a song and it triggers your earliest memory of it? Our surroundings, who we were with and how we felt at the time are all relevant to how we respond to music. Dig back to earlier fond memories; a mind-blowing concert, a karaoke favourite, a song or artist that reminds you of a loved one or maybe even a novelty song that seemed ridiculous at the time of its' release (I'm On A Boat by Lonely Island feat. T.Pain always works for me!). You'd be surprised how instantly your mood lifts just by reliving
those moments and listening to songs with sentimental value. And yes, that is me doing a diva singalong in the image on the right.
40S AND 50S
Female singers of the 40s and 50s paved the way and inspired generations of beautifully gifted singers to come. Icons like Patsy Cline, Billie Holiday, Doris Day and Sarah Vaughan sang with class and poise, and accompanied by a down-tempo swing played graciously by their band. You can't help but appreciate the charm and sweetness of their sound, and listening to songs like Que Sera, Sera (a song that echoed profusely in my all female household growing up) is like receiving a giant motherly hug.
MELLOW JAZZ
With a similiar effect to the 40s and 50s ladies, listening to mellow Jazz numbers from the greats will create a peaceful atmosphere and required ambience for when you're feeling downhearted. A serene arrangement of trumpets, keys and vocals can initiate balance to heavy emotions and Jazz legends like Ella Fitzgerald and Louis Armstrong (and so, so many more) have an overwhelming portfolio of songs that drown out negative energy.
"FOREST" MUSIC
Okay. I'm PRETTY sure that's not the official name or genre but let's call it that for the sake of this post. Bands like Bon Iver, Fleet Foxes and Lord Huron are prime leaders of "forest" music: their songs omit escapism and a pleasant, wintry aura. Step away from sky-high, corporate towers and concrete roads and re-imagine an array of foliage and twilight. Not only will it take your mind out of your current settings, but provide a mini-holiday for it.
EXPLORE WHAT WORKS FOR YOU
Feeling "low" is not a straightforward emotion and there are no definitive rules on how you approach this weighted feeling. Hey, I have my own go-to playlist for when I just want the world to piss off so I can starfish my bed. Wanna cry it out? Throw on some Angel Olsen. Want a more joyous, upbeat listening session? Feed your soul Motown hits. Or maybe you want to keep busy and work off your emotions at the gym and channel your inner #bossbabe – whichever way you choose to heal, you don't have to do it by yourself and music will be your first helping hand.